Friday, 26. January 2007
Das kleine Schwarze
Diesen Eintrag schreibe ich von meinem brandneuen, schwarzem 13" Macbook, dass ich heute gekauft habe. Schon wieder ein neuer Mac, wird der geneigte Leser sich vielleicht fragen...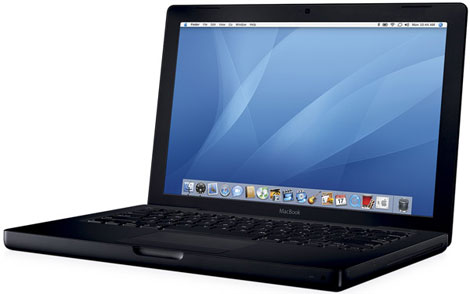 Ja, ich habe bereits ein 17" MacBook Pro für zu Hause aber ich benötige ein kleines, mobiles, schnelles Gerät für unterwegs: Für Fotoshootings zum Fotos betrachten, für E-Mails unterwegs usw. Und da hat mein drei Jahre altes 14" Ibook einfach ausgedient. Kein DVD Brenner, zu kleine Platte, zu wenig RAM...das übliche. ;)
Edit: Obwohl ich hier gar nicht reingeschrieben hatte, das mein altes Ibook zum Verkauf steht, erreichten mich doch einige Mails mit der Frage nach dem Preis und ob es zum Verkauf steht.
Also ich habe das Ibook gerade verkauft - danke sehr für Eurer Interesse :)
... link
Wednesday, 10. January 2007
iPhone
Bitte gleich 2x Stück davon! Wo ist der Bestell-Button? ;)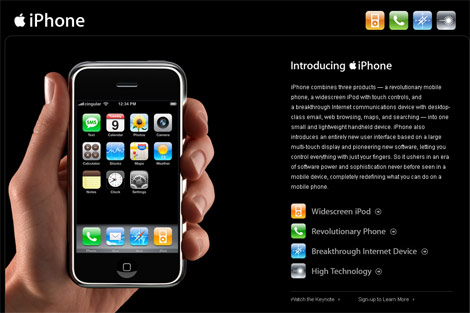 iPhone
combines three products — a revolutionary mobile phone, a widescreen iPod with touch controls, and a breakthrough Internet communications device with desktop-class email, web browsing, maps, and searching — into one small and lightweight handheld device. iPhone also introduces an entirely new user interface based on a large multi-touch display and pioneering new software, letting you control everything with just your fingers. So it ushers in an era of software power and sophistication never before seen in a mobile device, completely redefining what you can do on a mobile phone.
iPhone features the most revolutionary user interface since the mouse. It's an entirely new interface based on a large multi-touch display and innovative new software that lets you control everything using only your fingers. So you can glide through albums with Cover Flow, flip through photos and email them with a touch, or zoom in and out on a section of a web page — all by simply using iPhone's multi-touch display.
Das Iphone wird in den USA im Juni 2007, in Europa Ende 2007 und in Asien 2008 als 4 GByte-Modell für 499 US-Dollar und als 8 GByte-Modell für 599 US-Dollar verfügbar sein und mit PC oder Mac zusammenarbeiten. Quelle:
funkschau
iPhone Keynote als Video
... link
Friday, 29. April 2005
Der Tiger ist los - Mac OS X 10.4
Ab heute offiziell lieferbar:
Das neue Tiger OS von Apple
. Ich habs die Tage schon gesehen und muss sagen, das das Dashboard mit den Widgets cool ist und die globale Suche auch. Und schneller isset beim booten. Aber sonst fällt das Update kaum auf für einen Laien wie mich. ;-)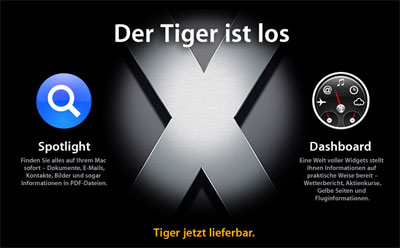 ... link
Monday, 28. June 2004
"Das größte Display" überhaupt von Apple
Steve Jobs hat während seiner Keynote auf der WWDC wie erwartet neue Displays vorgestellt. Angeboten wird als zukünftiges Top-Modell ein 30-Zoll-Bildschirm - "das größte Display" überhaupt, wie Jobs sagte - mit 2560 mal 1600 Pixeln, wie MacNN berichtet. Es ist aus einem Aluminium-Stück gefertigt, bietet FireWire- und USB-Anschlüsse und arbeitet nur mit G5-PowerMacs samt neuer nVIDIA-Grafikkarten (zwei DVI-Anschlüsse), die 600 Dollar kosten sollen. Außerdem wurde ein neues 23-Zoll-Display (1999,- Dollar), ebenfalls im Alu-Look, vorgestellt. Der Preis des 30-Zoll-Displays soll laut Mac Observer bei 3299,- Dollar liegen - die Auflösung ist 77 Prozent größer, als beim aktuellen Cinema HD-Display. Die Lieferbarkeit startet im August. Ebenfalls erhältlich ist ein 20-Zoll-Display (1299,- Dollar).
via:
Macnews
... link