Sunday, 19. June 2005
OptikVerve > Virtual Photographer für Photoshop
Ein nettes Photoshop Fotoverfremdungstool gibts
hier
für umme. Schönes Interface mit coolen Effekten!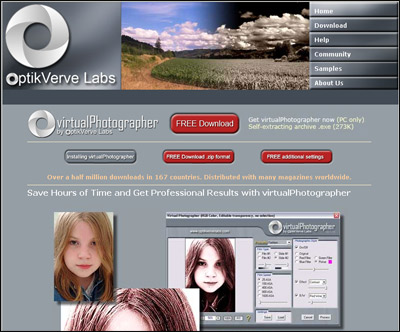 ... link
Wednesday, 25. February 2004
Grün ist die Hoffnung - der GreenBrowser ist da
Mein Kumpel Torsten (B&B Vertriebs- und Marketing Gesellschaft) hat die deutsche Version des
Greenbrowser
fertiggestellt. Kostenloser Download!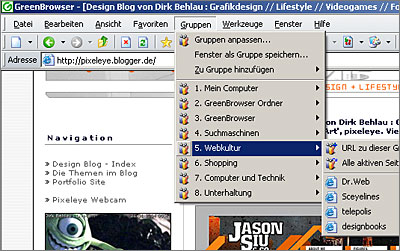 Der GreenBrowser ist ein kostenlos erhältlicher Web-Browser für Windows. Er basiert auf dem Internet Explorer, ist dabei aber klein, schnell, leicht zu benutzen und bietet viele Vorteile gegenüber anderen Web-Browsern, wie z.B. das Anzeigen von mehreren Fenstern, sogenannten Tabs, unter einer Programmoberfläche. Natürlich einen Pop-Up Blocker, der Schluss mit nervigen Werbe-Popups macht! Eine voll anpassbare Oberfläche, bei der sämtliche Symbolleisten nach Ihren eigenen Wünschen angepasst werden können. Auch an einen Downloadmanager wurde gedacht, mit dem Sie bequem und übersichtlich alle Dateien downloaden können.
Viele weitere Features wie Start mit den zuletzt angesurften Seiten, Suchmaschinenleiste, Leisten automatisch verstecken, Formulare automatisch ausfüllen, Skins, Autoscrolling, Sammler, Favoritengruppen, Mausgesten, Seite mit der Maus scrollen, Seitenhintergrundfarbe, Symbolleisten Skins, Proxy, Tableiste, Autospeichern, bequemes löschen aller Cookies, der Einstellungen über besuchte Webseiten, ausgefüllter Formulare und Passwörter machen den GreenBrowser zum Ausstattungswunder, bei dem keine Wünsche unerfüllt bleiben.
Der Umstieg fällt leicht, denn Favoriten werden automatisch übernommen, den Greenbrowser gibt es in Deutsch und der Download hält sich in bescheidenen Grenzen. Installiert werden muss auch nichts groß. Die Anzeige von Webseiten bleibt wie sie immer war.
... link
Tuesday, 30. December 2003
ColorMatch 5K: Farben fürs Web
Nicht neu, aber vielleicht kennt der ein oder andere es noch nicht: Das hilfreiche Online Tool zur "Farbraumgenerierung".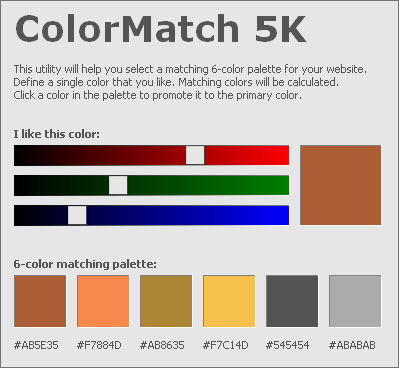 This utility will help you select a matching 6-color palette for your website. Define a single color that you like. Matching colors will be calculated. Click a color in the palette to promote it to the primary color.
http://www.colormatch.dk/
Es gibt noch diverse ColorMatch Derivate, z.B. ColorMatch Remix mit zusätzlichen RGB-Werten wobei auch ein Export als Photoshop Farbtabelle möglich ist:
http://www.twysted.net/colormatch.php
... link