Sunday, 24. July 2011
The Pixeleye Artwork by SKUMMIE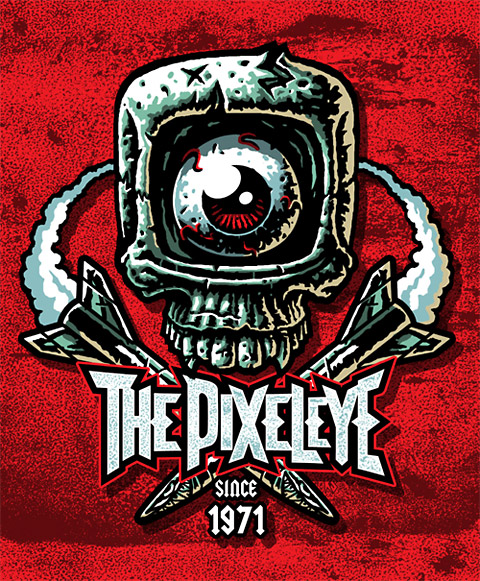 New The Pixeleye Artwork by Official SKUMMIE aka Kory Schuerman from Kansas City, Missouri, USA!
http://www.skummie.com
http://www.pixeleye.de
... link
Sunday, 7. October 2007
THE OTHER COMIC - jetzt erhältlich!
"TALES OF THE OTHER"
Endlich ist es soweit: Die wahre, grauenhafte Geschichte der Entstehung von
THE OTHER
erscheint als Comic. Lange hat sich keiner getraut, die unbeschreiblichen Ereignisse, die zur Gründung und zum Siegeszug der bekanntesten Horrorpunk-Band Europas führten, in Worte zu fassen, geschweige denn, sie in Farbe auf Papier zu bannen.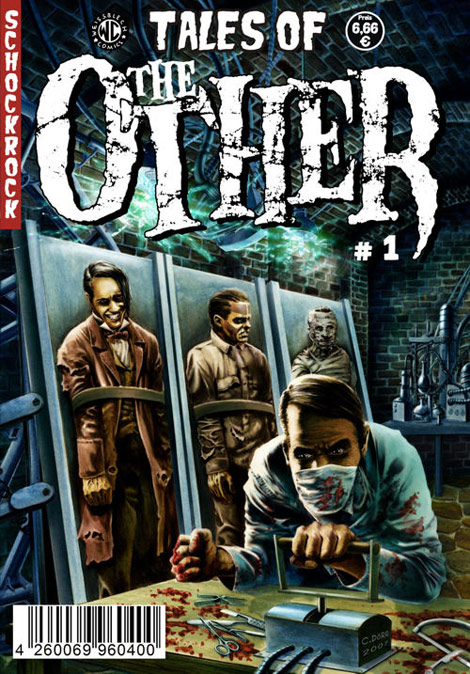 Doch die Zeit der Mutmaßungen und Gerüchte ist vorbei! Der renommierte Verlag Weissblech Comics (u.a. "Horror-Schocker",
www.weissblechcomics.com
) hat es gewagt, sich mit den vier Untoten einzulassen und ihre Erlebnisse anzuhören. Oft waren Herausgeber und Zeichner Levin Kurio und seine in der Comic-Welt ebenfalls sehr angesagten Kollegen Carsten Dörr und Rainer F. Engel kurz davor Reißaus zu nehmen, doch am Ende siegten Mut und Leidenschaft. Gerade Kurio hatte keine leichte Aufgabe, denn er war es, der ständig mit den Eskapaden und Launen des grausigen Rod Ushers zu tun hatte und der versuchte, die Essenz aus dessen Anekdoten und Hirngespinsten zu filtern und diese in kurze Zeilen zu fassen, was ihm schließlich gelang.
Jeder mutige Leser erfährt nun alles über die schaurige Herkunft der Horror-Truppe, die vor Fans in Europa und den USA spielte und anderen Bands, mit denen sie auftrat oder tourte (z.B. The 69 Eyes, Bela B., The Misfits, The Damned, Meteors, Wednesday 13, Balzac, Fear Factory, etc.) das Fürchten lehrte.
Technische Daten:
Tales Of The Other # 1
Heft, 36 Seiten Farbe, Format 168x242 mm, Sprache deutsch
Cover: Carsten Dörr
... link
Sunday, 4. March 2007
SCARFACE: SCARRED FOR LIFE
Scarface -
the comic
!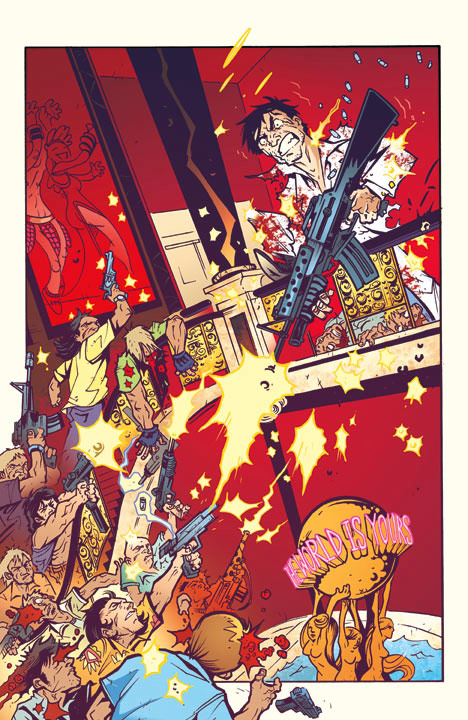 Say hello to IDW's gun-toting, profanity-spewing, law-breaking, drug-peddling leeeetle friend. Tony Montana, is back, you stinking cock-a-roaches, in the savage sequel to the legendary '80s-era Miami gangster movie, Scarface. Our blood-soaked tale picks up where the movie left off, as Tony survives—just barely—and has to claw and kill his way back to the top of the sun-drenched Florida underworld. It ain't gonna be pretty... and a whole lot of $#@&% #%$*ers are gonna die! Brought to you by John Layman and Dave Crosland, the twisted team between the wickedly depraved and seriously funny comic series, Puffed.
... link
Wednesday, 7. July 2004
Stinkin´Pile of rubbish...

Dilbert © 2004, United Feature Syndicate, Inc.
Haha...alt, aber
Dilbert
bringt es einfach immer auf den Punkt ;-)
... link
Wednesday, 2. June 2004
Daily Ivy Comics wieder da!
Endlich! Es gibt wieder den täglichen
Ivy Comic Strip
von Sven K.: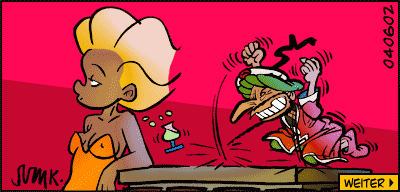 "Einer muss den Anfang machen: Hiermit melde ich mich als Zeichner aus der Kreativpause zurück. Die Nische des deutschen Comics ist wiedereröffnet - ab heute gibt es endgültig wieder tägliche Ivy-Strips. Klick auf die Vorschau genügt und der Morgen ist gerettet. Zumindest was die tägliche Dosis an gelben Hintergründen angeht."
Dank Dir Sven auch für Isnogud "Ich will Kalif sein anstelle des Kalifen" - die Comics hab ich ja früher in der Kinderbücherei immer super gerne gelesen und mich gefragt was Isnogud wohl bedeutet ;-)
... link
Saturday, 22. May 2004
Requiem - Der Vampirritter
Ich war heute Nachmittag mit meinem Kumepl Olli in der Bonner City shoppen....Klamotten, Comicbooks, Goodies, Einrichtungsläden etc....unter anderem hab ich mir auch zwei Bände im Bonner Comicladen hier von geholt:
Requiem
- sehr geil & morbide gezeichnet.
Requiem: Eine Welt der Untoten
Die Story beginnt auf den Schlachtfeldern des Zweiten Weltkriegs und mit dem Tod des Soldaten Heinrich Augsburg. Sein letzter Gedanke gilt der Geliebten, einer Jüdin, deren Abtransport durch die Gestapo er miterlebte und es nicht wagte einzugreifen. Dann erwacht Heinrich erneut - noch immer das Bild Rebeccas in der Hand - und glaubt sich in der Hölle. Eine Hölle die sich als spiegelbildliche Erde erweist, auf der die Zeit rückwärts läuft und die bevölkert ist durch Horden von Untoten. Die hier herrschende Klasse ist die der Vampirritter, der Heinrich schon bald angehört. Doch um endgültig zum Vampirritter zu werden, muss er seine Vergangenheit abstreifen - inklusive der Erinnerung an Rebecca...
Liebhaber des Gotischen und Morbiden werden von dieser verrückten Welt begeistert sein, nicht zuletzt dank der exzellenten Bilder und Seitenkompositionen Ledroits.
Originaltitel: Requiem - chevalier vampire
Zeichnung: Olivier Ledroit
Text: Pat Mills
... link