Tuesday, 30. July 2013
RUMBLE59 BATTLE OF THE BANDS
Your band rocks harder than all the others? Then show the world what you've got!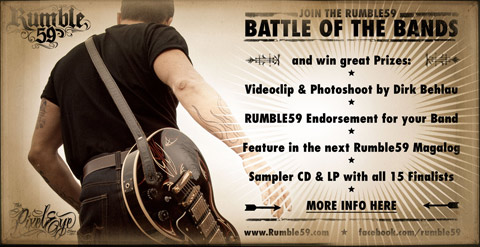 Join the
RUMBLE59 BATTLE OF THE BANDS
and let the whole Rock'n'Roll Community know what you're made of.
You may have this one killer song, one piece of music that turns every venue into a boiling pot.
A musical jewel that's hidden in your drawer, or a coverversion that's even better than the original recording?
So what are you waiting for?
Send us your song!
The 15 finalists (chosen by a jury of specialists) make it onto our compilation "THE WILD SOUND OF RUMBLE", to be released in Winter 2013/2014 on CD & Vinyl LP.
There's much to win:
For the winner:
- a professional musicvideo & bandpics by Dirk "The Pixeleye" Behlau
- Rumble59 endorsement
- A feature in the Rumble59 Magalog
- 48 cans of "Hell-Yeah.Beer" & the limited "Hell-Yeah-Beer" Ring
For the 15 finalists:
- be featured on the compilation (CD & Vinyl) & get 10 free copies per band
- 20% discount on the complete range of Rumble59 for one year
"THE WILD SOUND OF RUMBLE" will be available for a reasonable price at
http://www.Rockabilly-Rules.com
(more than 50.000 customers), in our shop in Essen, on iTunes and other download-stores.
From all 15 finalists our customers will crown the Top Act, who will not only famous through a feature in our next magalog (10.000 copies), but will get Rumble59 endorsement for the whole band.
No other than Dirk "The Pixeleye" Behlau will be responsible for directing a musicvideo with the winning band and new bandpics will be taken by him also.
All of that will be promoted by Rumble59 and you'll be assured that the Rock'n'Roll-community will be aware of your band!
So what are you waiting for?
Send us your winning song together with your vita and bandpic:
Red Hot & Blue, Theklastr. 1, 45130 Essen
or via e-mail an:
Battle@Rumble59.com
P.S. Just to make sure: We're looking for Bands from all rockin' genres:
Rock'n'Roll/Rockabilly/Psychobilly
and we welcome all infusions from Blues to Punk'n'Roll, Outlaw Country to Southern Rock, Folk Punk to Doo-Wop.
As long as it's handmade and dirty rockin' like there's no tomorrow.
Send your song until October, 31st.
Red Hot and Blue GmbH
Theklastrasse 1 45130 Essen Tel. +49 (0)201 - 87786787
http://www.Rockabilly-Rules.com
http://www.thepixeleye.com
http://www.hellyeahbeer.com